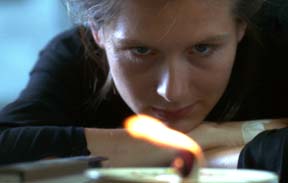 TRAILER, VIDEO, STILLS, POSTER, & MUSIC!


The STATES OF CONTROL TRAILER
Quicktime file (5 megs) of 35mm trailer optimized for download via T1 or DSL.
Quicktime file (1.3 megs) of 35mm trailer optimized for download via 56k modem.
Requires Quicktime 4 or later. Download the latest Quicktime player for either Mac or Windows.

RealVideo files (streaming):
optimized for 28k modem
optimized for 56k modem
optimized for Single ISDN
optimized for Dual ISDN
optimized for LAN
optimized for XDSL/Cable Modem
Download the latest RealVideo Player.
STILLS GALLERY
Fourteen stills from the film. Each image is about 12k.

POSTER


A 215k jpeg image of the official States of Control poster.
MUSIC CLIPS
Choose MP3 excerpts from the following tracks:
(if clips will not open within your browser, choose 'save as source' and open them directly with your mp3 player; Get Help)
'Running' (1 meg)
'Driving' (550k)
'Arousal' (625k)
'Watching 2' (550k)
Real Audio clips also available.

STATES OF CONTROL IS NOW AVAILABLE ON DVD

ORDER THE STATES OF CONTROL SOUNDTRACK CD




STATES OF CONTROL HOME | ABOUT STATES OF CONTROL

REVIEWS & INTERVIEWS

CAST & CREW BIOS | FESTIVALS & SCREENINGS | DISTRIBUTION | LINKS

TRAILER, STILLS, MUSIC!


Copyright and contact info